Discovery journey in a virtual world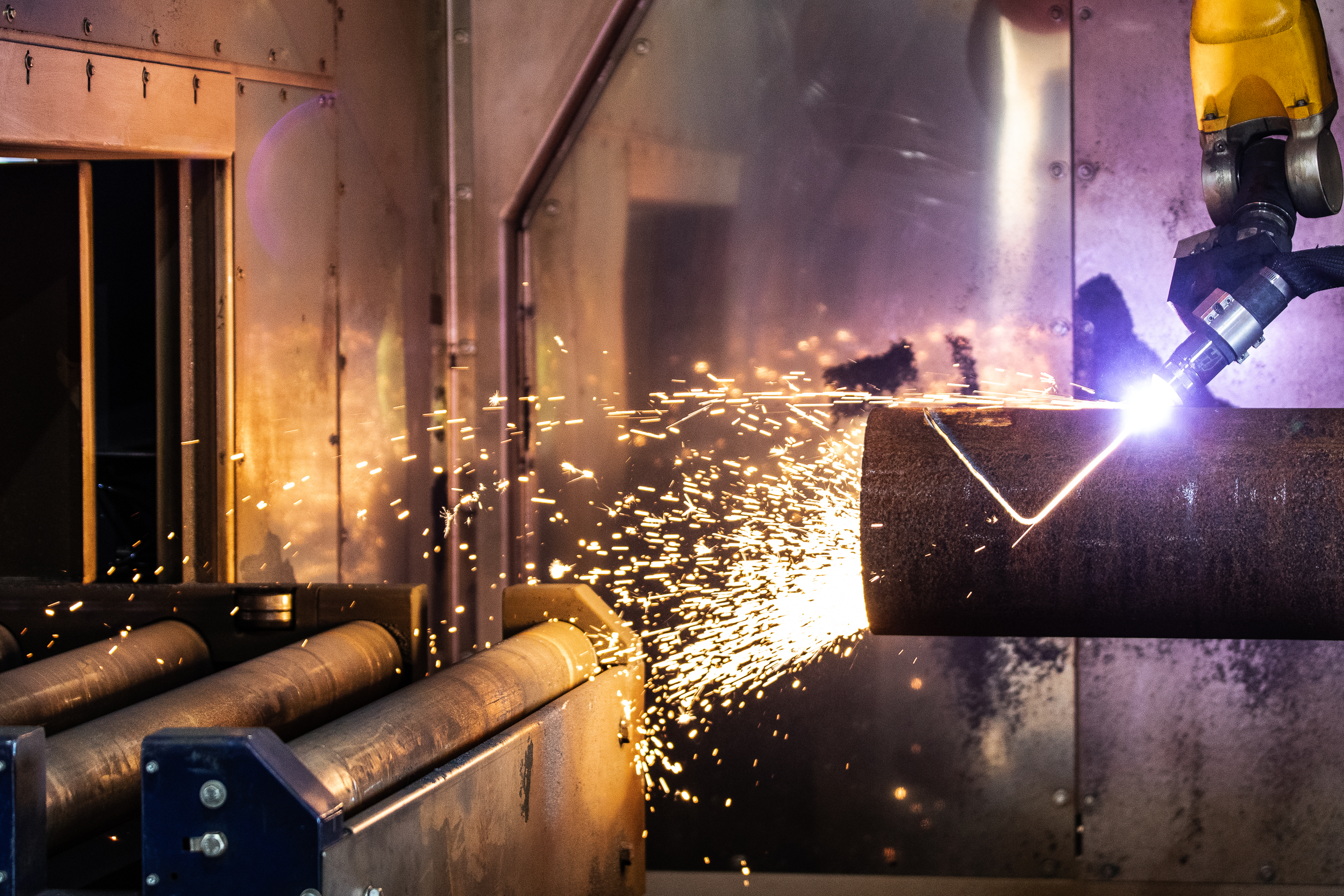 What do supertankers, roller coasters, the Wembley stadium, London Eye and the reconstruction of the Dutch AZ stadium in Alkmaar have in common? They include steel structures made with HGG cutting machines. Those machines cut metal pipes, beams, tubes and other profiles with great precision. Because in the heavy metal industry, the better the parts of a steel structure fit together, the stronger the welded connection will become.
Since 1984, Dutch mechanical engineering company HGG (https://hgg-group.com ) has led the way with machines for automatically cutting metal profiles for the heavy metal industry. The Wieringerwerf-based company has clients in the offshore, process industry, steel construction and shipbuilding industries in more than 60 countries. Every year, HGG installs some 50 machines on site. Engineer Johan Nota and product manager Perry van Damme are responsible for compiling all documentation that goes with the machines. ,,It is explained in the language of the user how the machines should be operated," explains Perry. "We are constantly polishing these instructions, because the cutting machines are used on all continents by many different people, with different backgrounds, knowledge levels and ages. In addition, we know that operators often prefer to figure things out for themselves first. Only when they really can't find it they will reach for the manual. For some time we had been looking for new ways to explain the operation of the machines to operators, in addition to the 'old-fashioned' paper manuals.
All kinds of possibilities
When Johan and Perry were approached by TechValley (www.techvalley-nh.nl) this spring, asking if they were interested in participating in an augmented reality (AR) pilot, Johan in particular was immediately enthusiastic. ,,I see applications and possibilities on all sides. Initially for training our own people who install the machines on site and for the operators who will be using our machines. For example, it is safer to let people practice with a virtual variant, than with a real cutting machine. But we can also apply AR in providing remote service. Or to support sales. Actually in anything that makes work for our customers more productive and efficient."
Industry 4.0
"Within HGG, we like to do things differently," Perry adds. ,,We can't distinguish ourselves in the market just by supplying the best cutting machines. We think and work outside the box, using all available technologies." In the description of Industry 4.0, augmented reality is specifically mentioned. So it is valuable for us to gain experience in an accessible way and discover what the possibilities and limitations are. That's why this pilot is very interesting."
Impressive
For the pilot, which is supervised by TechValley partner Total Reality (www.totalreality.nl ), the choice was made to test with the SPC1200, a compact tube cutter that is well documented and very familiar to all employees, says Johan. ,,Total Reality placed our 3D model of this machine in their environment and I filled the application with content. We can now virtually conjure up a complete cutting machine in our office and view it with a viewer on the iPad. It's very cool that you can just put such a machine of 15 meters long, 3 meters wide and 3 meters high in the office and virtually walk around it. Everyone is impressed by that."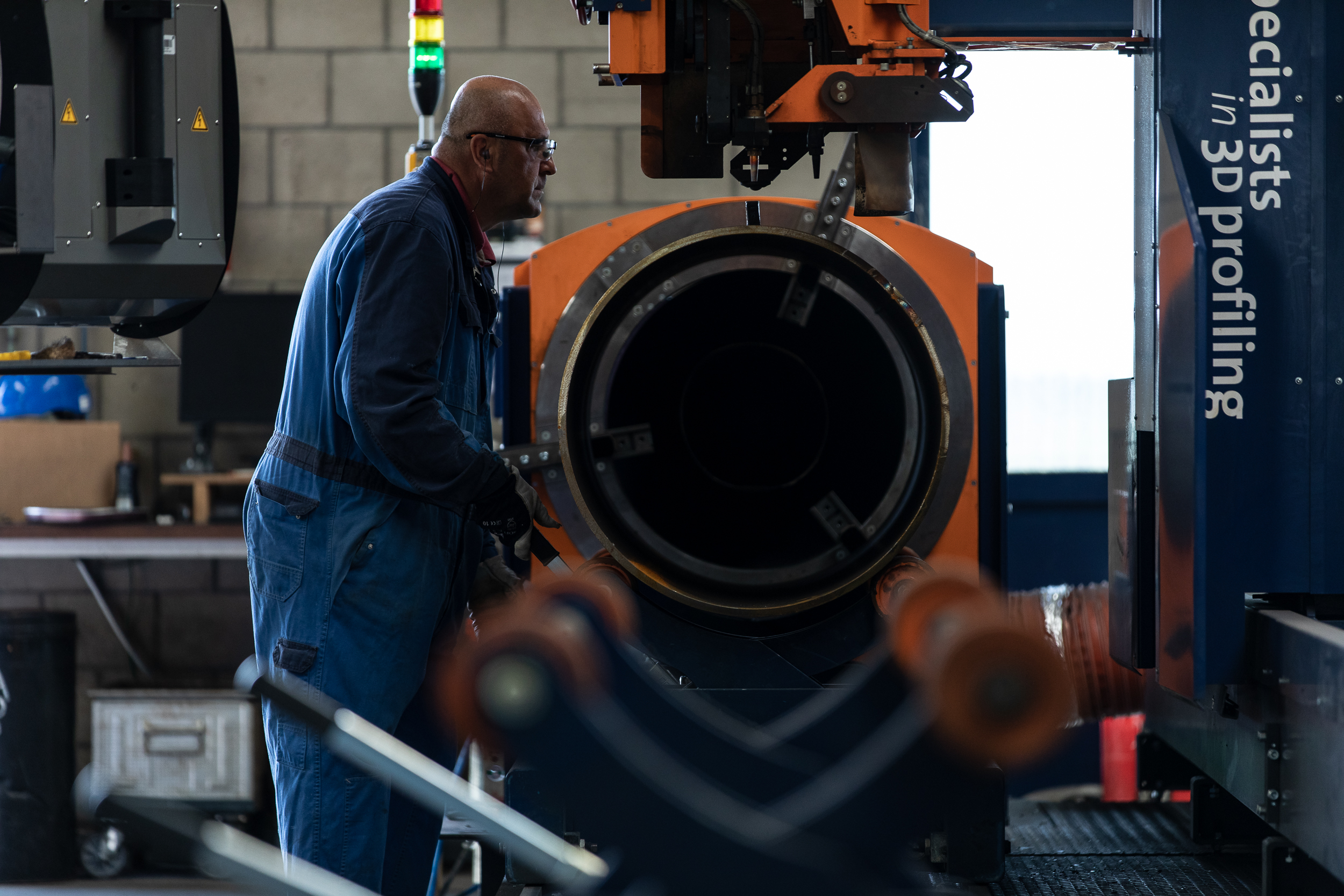 Pandemic
For HGG, the added value of the new technology lies mainly in the fact that you can project the augmented environment precisely onto reality, Perry believes. ,,In this pilot we are testing how AR can be used for our own employees during the installation of a new machine. Later, we also want to provide support when performing maintenance or service issues. A QR code is projected on the ground. If you point the tablet at certain markers, instructions appear on the screen. For example, it says: first put down this component, then that component and tighten all the bolts. We are now practicing with this ourselves to make sure the technique works properly. At a later stage we will present it internally and let colleagues work with it to see how they react to it. We hope, of course, that they will think it's cool."
Mature
The pilot also reveals the limitations of AR, Perry says. "We can see that the application is not yet mature. For example, you have to use a specific device to see virtual reality. In our case, a tablet. On a smartphone it doesn't work yet. We don't find that convenient. Also, keeping the information up-to-date is cumbersome. We regularly update our instructions. The current versions of the manuals are in one place. It is time-consuming for us to also have to update the improvements in this application each time. Rather, we'd have these referenced to the database where the most recent documents are kept, so that the management of the application remains low-maintenance. Total Reality is looking for a solution to that. If that succeeds, it could be very interesting for us."
A keeper
Whether augmented reality is here to stay within HGG, Perry and Johan do not yet know. ,,It is one of the solutions we are investigating. We have therefore not attached any deadline or schedule to this pilot. One thing is certain: paper will always remain, because that is a legal obligation. But there will undoubtedly be new applications alongside it in the coming years. That is why such a voyage of discovery like this is worthwhile for us. It's simply a matter of moving with it and daring to be open to something new. And who knows how far it will come."
This pilot, in the Netherlands, is a part of VAM-realities project (www.vam-realities.eu ).