By Jan Luc Zandjans, BLUF (Amsterdam)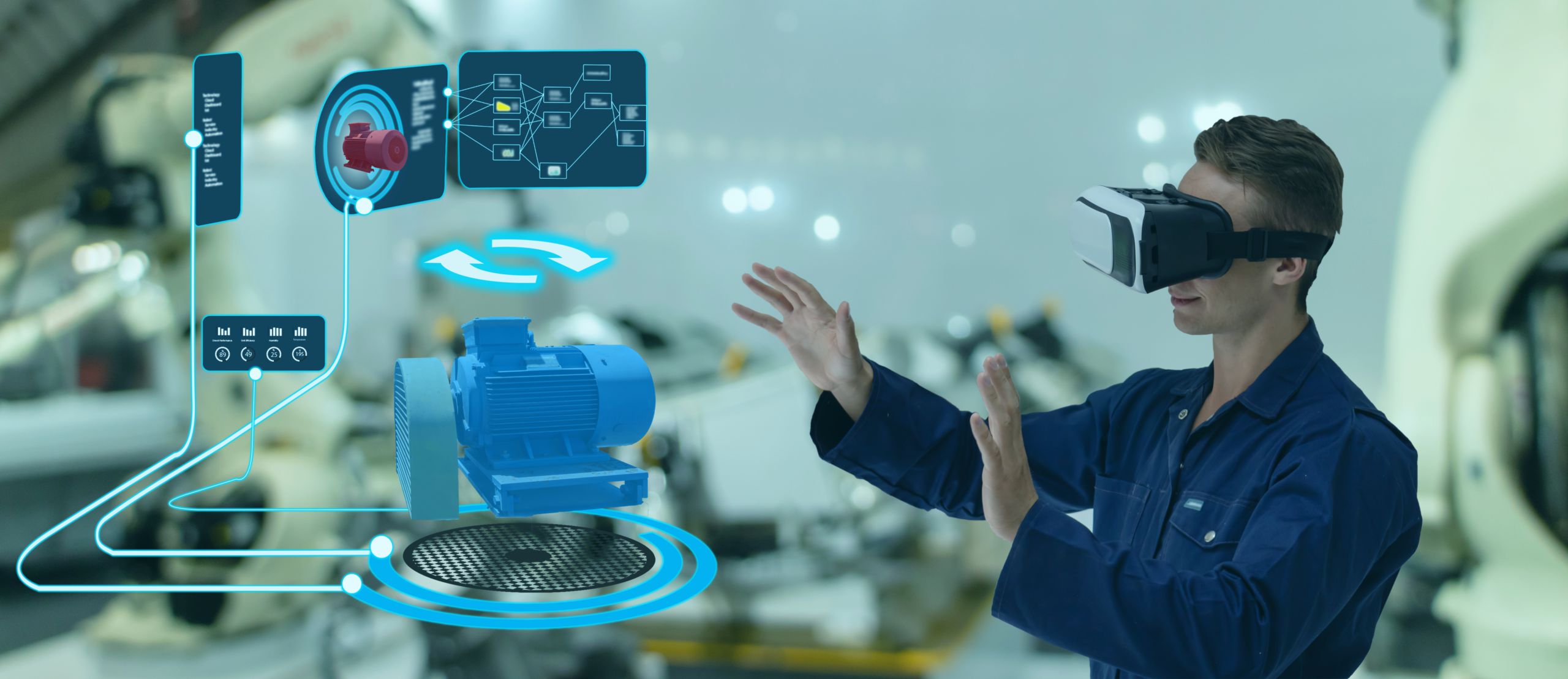 VR and AR applications have the potential to add a lot of value to the business lifecycle of your machine, product or service. We will show you by means of a number of use cases.
What is immersive technology?
Taking a step back for a moment: what is immersive technology? To answer that properly, I'll take you through the various terms currently in use. Let's start with what you probably already know; Virtual Reality. You experience VR through a VR headset and are completely disconnected from the outside world in your experience. There is also Augmented Reality, where you experience content being projected onto the real world. The best example of this is of course Pokémon Go, well known to us all. You experience AR through your smartphone or tablet, using your camera to see an added (augmented) layer on top of reality. And then there is Mixed Reality: here you do not experience content as a layer on top of the real world, but it really has its own place in the real world. Mixed Reality can be experienced through an MR headset such as the Microsoft HoloLens. 
Use cases- Remote assistance
For years we have noticed that securing knowledge about machines and products is becoming more and more challenging for our customers. New, young maintenance engineers do not have the same knowledge as the retired craftsman. For these kind of situations it is important to pre-sort on securing knowledge in tools that ensure that every new maintenance engineer can be fully supported. Microsoft Remote Assistance, available on the Microsoft HoloLens 2 is a perfect example of this. You give your staff all the knowledge and possibilities from day one.
Training
Charles Jennings' 70-20-10 learning model teaches us that 'learning-on-the-job' is one of the best methods to train your staff. But this method requires room to make mistakes, and people who work in hazardous environments or work with expensive machines don't have that luxury.
That's why Virtual Reality fits well with training your staff. It increases the possibilities of how we can train employees. VR makes it possible to place your staff in every conceivable situation, interact with real systems and experience the impact of their actions and behavior. Without the consequences.
You create a safe training environment and increase the learning retention of your employees. Moreover, a training in VR is a scalable and cost effective alternative to a training room with a trainer.
Communication and sales
Immersive technology offers plenty of opportunities for marketing and sales professionals. Especially Augmented but also Virtual Reality gives the opportunity to get the target group in motion in a unique way, to seduce and connect with your machine, product or story being told.
For example, with AR you can visualize machines and products in 3D holograms in the physical space of the potential customer. This allows you to better respond to the customer's experience and it stimulates the senses more than fleeting product interactions in a presentation, website or brochure. Add specific interactions, such as visualizing the operation of the machine or decorating the space of your potential customer, and he gets a perfect picture of the added value.
How do you get started with immersive technology for your business?
As the cases above show, and there are more, there are plenty of opportunities and possibilities to move your business forward with immersive technology. And the great thing is that these use cases are not distant visions of the future, but concrete tools that you could start using today.
Stay ahead! 
Jan Luc Zandjans is co-founder of immersive technology company BLUF (Amsterdam), which specializes in developing VR and AR solutions in the fields of training, communication and sales. Their customers include Tata Steel, KLM and Vopak.
Website : www.blufamsterdam.nl 
E-mail: info@blufamsterdam.nl
This email (including all attachments) is intended solely for the named addressee. It is confidential and may contain privileged information. If you are not the intended recipient, you should not disseminate, distribute or copy this communication. If you have received this communication in error, please notify us immediately and delete the original message. This email is also subject to copyright. No part of it may be reproduced, adapted or transmitted without the consent of the copyright owner.